I've been meaning to post here for years but finally got around to it! In the middle of finals haha..
Hi, I'm hirato aka ihatov!
I've been into Zektbach for about 5+ years, I used to stalk the bemanistyle forum for information all the time but sadly they lost all their info on their servers. : ( My friend pulled me into it and luckily I've met quite a few others who (at least) listened to zektbach. You may have seen me liking/reblogging posts all over tumblr in the past, haha.
Thanks to the efforts of many members here I got to learn a lot about the zektbach world in past years!
Hopefully Tomosuke decides to wrap up the last bits of the epic and give us a few songs soon.
I've only begun playing bemani a couple years ago, and I have to say I am absolutely awful at it. The only one I am decent at would be jubeat and that one doesn't have any zektbach, just normal tomosuke songs. I also really like SDVX and pop'n. My favorite zekt tracks would be Innocent Wish piano ver. and Ristaccia. All of the characters are precious to me but if I had to pick favorites, it would be Nox and Lien. I plan to cosplay them soon! ; _; I love MAYA's art, I have Puzzle, tarot enie, and Miika.
I also do art but am extremely lazy/messy, here's a super quick something I did just now to post here -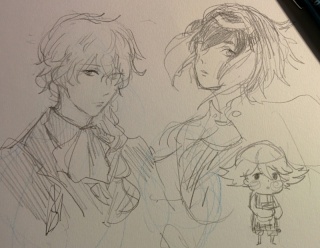 (bodies, what bodies)
Thanks for reading!